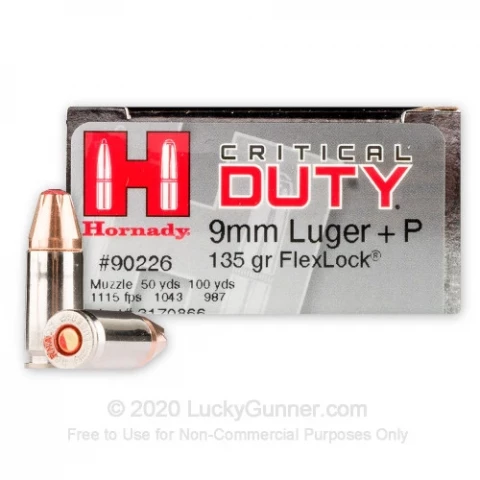 9mm - +P - 135 gr FlexLock JHP - Critical Duty - Hornady - 25 Rounds for Sale
Product Description
Hornady's 2012 introduction of Critical Duty ammo has been met with applause from the law enforcement community. Critical Duty ammunition is designed to perform very well on the stringent FBI protocol tests making this ideally suited for law enforcement as well … read more as personal defense situations.

The biggest thing that differentiates Critical Duty from Hornady's Critical Defense ammo is that Critical Duty ammo is designed to penetrate barriers such as sheet metal, wall board, plywood, heavy clothing, and auto glass as outlined in the FBI protocols. This barrier penetration need is more prevalent in the law enforcement community due to the different types of threats that LE professionals are likely to encounter.

This ammo has performed very well in FBI tests maintaining great weight retention through all barriers helping it to achieve the required 12-18" of penetration into gelatin after passing through the established barriers. The FlexLock bullet incorporates Hornady's patented Flex Tip that initiates expansion every time while preventing clogging along with their Interlock band that prevents jacket/core separation. Jacket/Core separation is where most non-bonded JHP bullets fail in penetration tests because when the lead core and copper jacket separate from each other their lighter weights aren't able to achieve the needed penetration to bring down an assailant. The Interlock band prevents this occurrence.

Hornady's Critical Duty line of ammo is truly a 21st century duty ammunition!
9mm - +P - 135 gr FlexLock JHP - Critical Duty - Hornady - 25 Rounds Comparisons
9mm - +P - 135 gr FlexLock JHP - Critical Duty - Hornady - 25 Rounds Reviews 100% Reliability
I have shot this thru 7 different guns, 3 different manufacturers. It has been super accurate and 100% reliable for hundreds of rounds over 2+ years for me. It has become my go to for duty. I'll Pass
I bought 2 boxes to try out in my 5906. My 5906 has eaten EVERY bullet I have fed it, up until these. I had 3 FTF (Fail To Feed) in 25 rounds. I can't trust this bullet if I were in an altercation with a bad guy. They're a good price and expand perfectly every time......unless they FTF! RichardRichard
June 21, 2017
Great rd
These bullets expand perfectly rd after rd . Recoil is light . Feed in ever firearm ive ever used . Rounds have a great nickel coating that keeps them like new . 1 box was submerged in water for hrs . Never had a misfire once dried out . Great ammo Trust this load
Never had a failure. Accuracy is super. Expands a little less than some open hollow points but is adequate. Works well on varmints. Perfectly Consistent
This is the most consistent self defense ammunition I have ever seen. There are some other rounds that expand more but every bullet will expand exactly the same with this load, and that's what makes it great. The recoil is moderate, functions perfectly with zero FTE or FTF after 275 rounds. Accuracy is far better than plinking target loads! Highly recommend this product for any… read more type of self defense. Oh, and this ammunition surpassed the FBI standards for a self defense 9mm cartridge! Missinglink
October 29, 2015
None better in the 9mm category.
I load this ammo in my Beretta PX4 Sub Compact for personal carry. I like the fact that it passed the FBI requirements with superior results in all categories. Throw in that Hornady's quality and control there of and it's a winner. At least for me. TheGunFather
October 9, 2014
Excellent Ammo
Great bullet integrity Wagonmaster
July 23, 2014
A Nine Worth Your Time
Hornady's Critical Duty is more than a notch up from their Critical Defense, especially in 9 mm. Heavier than standard with relatively high antimony, the bullet packs something previous Nines lacked: terminal punch at the end of the crush cavity. Penetration for Nines has always been good in hardball, but JHPs can fail. Crit Duty holds together and although the mushroom is not spectacular,… read more it is predictable. The only drawback is that the polymer filling in the cavity can drag on the mag interior, causing occasional feeding issues (I had heard about that, and it finally happened to my Beretta 92FS). Just be sure to thump the rear of the charged mag against your palm before loading to make sure all case heads are seated and you should be good to go with one of the best defensive rounds for a full-sized Nine on the market. great company
Doing business with Lucky Gunner is always a great experience. Fast, reasonable and good service. EXCELLENT DUTY AMMO
I CARRY A 45 CALIBER GLOCK MODEL 36 FOR SEARCH WARRANT WORK HOWEVER I DID RESEARCH ON 9MM AMMO TO INCLUDE THE RECENT AMERICA RIFLEMAN MAGAZINE ARTICLE GIVEN TO ME BY OUR BALLISTICS EXPERT FOR THE COUNTY AND THE RATINGS ON THIS PARTICULAR 9MM CRITICAL DUTY HAS NOW PROMPTED ME TO CARRY A 9MM S&W SHIELD AS BOTH MY BACK UP WEAPON AND FOR UNDERCOVER USE IN A WAISTBAND HOLSTER. THE ROUND… read more HAS REALLY GOOD STOPPING POWER AND DOES NOT GET BOGGED DOWN IN HEAVY CLOTHING BECAUSE OF HOLLOW POINT CLOGGING. IT CUTS THROUGH MATERIAL THEN EXPANDS CAUSING SERIOUS TISSUE DAMAGE.
9mm - +P - 135 gr FlexLock JHP - Critical Duty - Hornady - 25 Rounds Variations
9mm - +P - 135 gr FlexLock JHP - Critical Duty - Hornady - 25 Rounds Questions and Answers
9mm - +P - 135 gr FlexLock JHP - Critical Duty - Hornady - 25 Rounds Price History