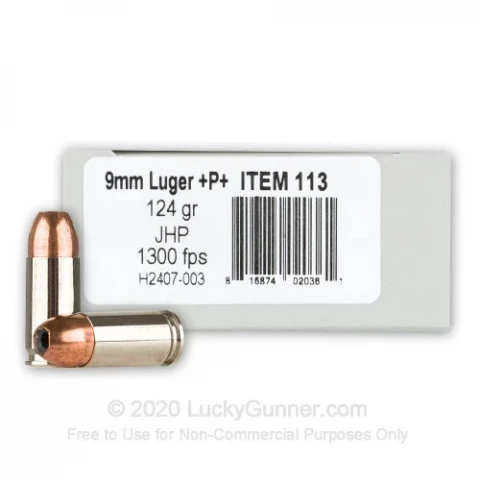 9mm - +P+ 124 Grain JHP - Underwood - 20 Rounds for Sale
Product Description
This is a supercharged 9mm +P+ cartridge by Underwood of Sparta, IL. It's going to deliver a 1,300 fps muzzle velocity out of a handgun (and even faster out of a carbine), so expect a remarkably flat trajectory, over 450 ft lbs … read more of energy at the muzzle – and of course some very snappy recoil.

This round features a 124 grain jacketed hollow point bullet by Nosler. Its tapered profile extends to the rim in order to facilitate highly reliable feeding in a semi-automatic firearm, and its dense lead core and deep nose cavity work together to promote fast and debilitating expansion.

This cartridge's new production brass case is nickel plated, enhancing its ability to feed and extract without failure as well as stave off corrosion that could impact performance. Thanks to the Ducta-Bright 7a process with which it was created, this round's nickel plating is less likely to crack or otherwise become damaged during ignition, preserving its utility as a handloading component.

Underwood loads this commanding self-defense round with flash suppressed propellant. Its duller muzzle flash will accordingly preserve your night vision and ability to correctly aim your follow-up shots when it's dark out.

Please note: Many handguns are not designed to safely fire 9mm +P+ ammunition. Please consult your weapon's manual before ordering 9mm +P+ ammunition. Glock handguns cannot fire 9mm +P+ ammunition.
9mm - +P+ 124 Grain JHP - Underwood - 20 Rounds Comparisons
9mm - +P+ 124 Grain JHP - Underwood - 20 Rounds Variations
9mm - +P+ 124 Grain JHP - Underwood - 20 Rounds Questions and Answers
Asked by
Unknown
1 year ago
I realize that (SAMMI) Dosen't recognize +P+ pressures, they are unknown, I do know that Glock says Do Not Fire any +P+ Ammo in their guns, same for Taurus, +p is ok, but no steady diet of them, ok so for 9mm Parabellum, standard pressure is 35,001 psi +P
Hello Joseph! You've got SAAMI's max psi for 9mm and 9mm +P spot on. Like you say, there is no SAAMI spec for 9mm +P+, so I can't give you a precise psi limit. The informal industry agreement is that a +P+ load is about 15 percent greater than a +P. The a
9mm - +P+ 124 Grain JHP - Underwood - 20 Rounds Price History