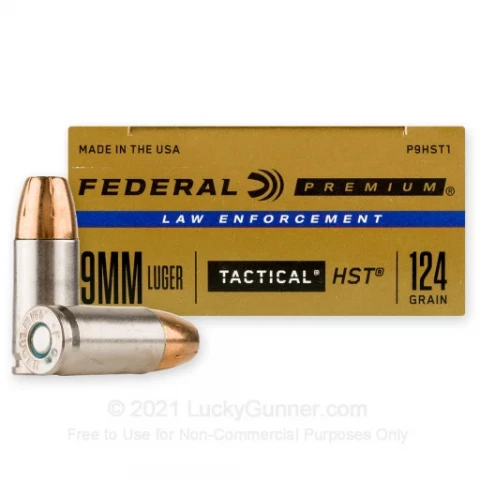 9mm - 124 Grain HST JHP - Federal Premium Law Enforcement - 50 Rounds for Sale
Product Description
Federal's Premium Law Enforcement HST line of JHP duty ammunition offers massive expansion! This duty load has a pre-skived bullet tip which causes the bullet to expand into large petals that cause a large permanent wound cavity. The unique design … read more of this bullet actually forces the lead petals during expansion to protect the copper petals behind them. This results in increased weight retention allowing it to still achieve deep penetration through a variety of barriers prescribed by the FBI test protocols.

This product is brand new, nickel plated brass-cased, boxer-primed, non-corrosive, and reloadable.

This is top of the line, American-made defense ammo made by ATK (same company that makes Speer Lawman, CCI, Blazer Brass, etc). This product is designed for Law Enforcement and occasionally made available to the general public through police trade-ins.

- it doesn't get any better.
9mm - 124 Grain HST JHP - Federal Premium Law Enforcement - 50 Rounds Comparisons
9mm - 124 Grain HST JHP - Federal Premium Law Enforcement - 50 Rounds Reviews MarlinMan
August 29, 2021
Amazing reliability! Great price!
I trust my life to this ammo as it is my go to defense round in all of my 9mm defense pistols! Very good price and excellent delivery on this HST ammo. Considering the current ammo situation.
Always very pleased with Lucky Gunner ammo sales. Ordered many times with always excellent results. Highly recommend! Badeye Bill
July 27, 2021
Fifty round box was a fantastic value. Runs great in G19.
I would like to see the packaging the fifty (50) round boxes return. Federal HST 9mm 124 Grain
Great 9mm ammo, maybe my favorite and the 50 round boxes are a better value, plus have sealed primers that the 20 round boxes don't have. Affordable&reliable
Was not able to find this ammo at local stores.Was needing for church security team. (Pray never have to use) will buy from Lucky Gunner again and have told all my friends this is the place to get there ammo???? thanks great ammo
Tried this ammo for the first time, everyone has said great things about it, and it surpassed my expectations. Great round. Has worked well in my Glock's
I have test shot this Federal 124 grain HST in my Glock 19, 26 and 43X without any misfeeds. The price at Lucky Gunner is the best I have found recently. (I also really enjoy the Lucky Gunner YouTube channel. The videos are very well done and informative.) Great Self Defense Rpund
I bought the 9mm ammo as personal defense rounds. I took em to the field for testing, and like the round! Recoil is low, and on target every round. The target, and bottle, we're shredded. Good self defense round. I was shooting at around the 25 yard line. I would recommend to anyone. Great CCW ammo
Great CCW or duty/off duty ammo. Federal changed the branding so the boxes look different than pictured but its the same exact ammo. Excellent Service
Easy to order. Quick response. Nice packaging. Fast Delivery. I will highly recommend. Exceptional
First time trying this ammunition and have to say it's amazing, it functioned perfect out of my G43. Definitely will be buying several more, thank you Lucky Gunner for having ammunition in stock in these crazy times. MicrotechJunky
June 13, 2020
Ty LG!!
Big shout out to the always awesome LUCKY GUNNER especially for keeping a pretty decent stock of the highest demand ammo during these crazy times! Good to know that when almost every other website is flat out sold out of every 9mm product LG will always be there to deliver and unlike CTD they do NOT price gouge! Huge shout out 1 last time THANK YOU for being there with us! God bless… read more America! And God bless Lucky Gunner!
9mm - 124 Grain HST JHP - Federal Premium Law Enforcement - 50 Rounds Variations
9mm - 124 Grain HST JHP - Federal Premium Law Enforcement - 50 Rounds Questions and Answers
9mm - 124 Grain HST JHP - Federal Premium Law Enforcement - 50 Rounds Price History