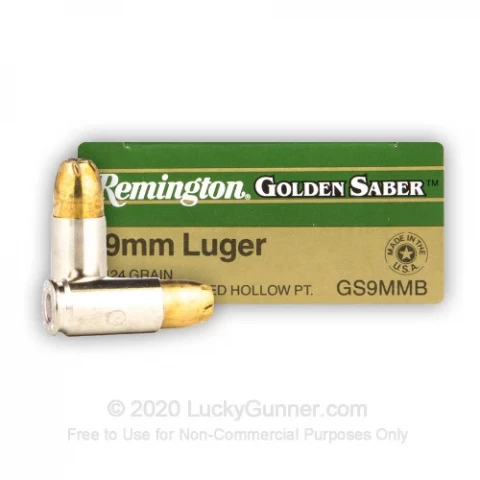 9mm - 124 gr JHP - Remington Golden Saber- 25 Rounds for Sale
Product Description
Looking for high-performance self-defense ammunition?

Look no further!

Remington's Golden Saber jacketed hollow points provide premium self-defense performance for when you need it most. Golden Saber rounds have match-grade accuracy and close to 100% weight retention. Their hollow points have deep … read more penetration and offer knock down power through their rapid expansion.

The powder used is designed for minimal muzzle flash and the primers are triple-inspected during the manufacturing process to ensure reliability.

This product is brand new, nickel-plated, boxer-primed, non-corrosive, and reloadable.
9mm - 124 gr JHP - Remington Golden Saber- 25 Rounds Comparisons
9mm - 124 gr JHP - Remington Golden Saber- 25 Rounds Reviews Very prompt response, great price!
Great service High Quality American Ammo
I've had this ammo in my carry gun for probably a decade or more. Every so often I shoot what's in the gun, practice with some then re-load the gun. It always performs as it should. I buy it in 9mm, 45 auto and .380. The guns are the 9 mm S&W EZ, Colt and S&W 45 auto 1911's, Springfield XD's in 9mm & 45 auto, Sig 238 and Ruger LCP .380s. Great round
Golden sabers have always performed great. These are one my preferred hunting rounds for deer in 9mm, the other Hornady xtp. Both do the job very well. Great Product, Great Service
Prompt service at a great price. Gibberton
January 20, 2016
Great
I am a dunbar armored guard and i use the golden saber for my kahr ct9. Real accurate round with tight grouping with no ftfs at the range. AR_Shooter
October 19, 2015
Target 9mm ammo
Excellent, clean-shooting, affordable ammo. Excellent!!!
Great ammo. Perfect for home defense good stuff
been using it a couple years and it always works well.on par with all the other premium rounds and better than most.only round i like better is fed hst. Fast shipping
Returning customer, shipping is always fast and their prices are the lowest I've found. This is my CCW round of choice. Feeds fine in my S&W Shield. Just right
Functions perfectly in all my pistols. Consistent, clean, accurate. No malfunctions. Great price, great availability and fast shipping. Best price anywhere. Keep up the good work, LG!
9mm - 124 gr JHP - Remington Golden Saber- 25 Rounds Variations
9mm - 124 gr JHP - Remington Golden Saber- 25 Rounds Questions and Answers
Asked by
Unknown
1 year ago
how this work in Kimber micro 9 I've newer tried this shell
Thanks for reaching out Dennis! This ammo should function perfectly in your Micro 9! This guy on YouTube tests the newer Golden Saber Black Belt 124gr JHP ammo out of his Micro 9. It's not exactly the same, but it should give you some idea of the performa
9mm - 124 gr JHP - Remington Golden Saber- 25 Rounds Price History