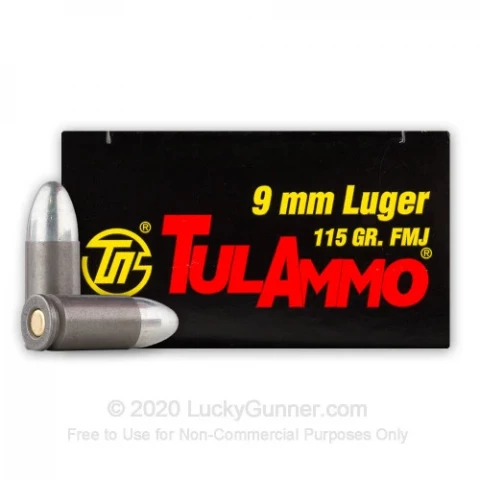 9mm - 115 Grain FMJ - Tula - 50 Rounds for Sale
Product Description
This newly manufactured 9mm ammunition is PERFECT for target practice, range training, or plinking. It is both economical and reliable and is produced by one of the most established ammunition plants in the world.

Tula ammunition derives its name from its birthplace, … read more the Tula Cartridge Works in Tula, Russia.

The Tula Cartridge Works was founded in 1880 and is currently one of the largest ammunition manufacturing plants in the world. The Tula name has gained a following worldwide for its rugged, reliable, and economical product. This cartridge complies with CIP requirements and the casing features a polymer-coated steel casing with a non-corrosive Berdan Primer. The projectile features a bimetal jacket (contains steel and zinc) and a lead core resulting in excellent ballistics characteristics. Tula started using zinc plating instead of copper for several reasons, one of which is the cost, another is that zinc is a softer metal than copper, and should result in reduced barrel wear.

Muzzle Velocity: 1150 fps
Max Pressure: 35,500 psi
9mm - 115 Grain FMJ - Tula - 50 Rounds Comparisons
9mm - 115 Grain FMJ - Tula - 50 Rounds Reviews AvionicsWiz
July 27, 2021
Worked great for plinking
I bought these for my Glock 17 to work at the range, and improve my skills. They fire consistently and worked fine. Tula 9MM Ammo
Not everyone is going to have the same experience with any product good or bad . As for me I've used this brand ammo many times in my Hi-Point carbine rifles and Ruger hand guns and have not had any jams or misfeeds to speak of. Ammo burns relatively clean , not bad at all , and yes the steel case myth does live on , when in fact the steel used is indeed a soft steel and will… read more not damage your weapon and unlike some ammo this ammo is sealed around the primer and around pressed bullet making them sealed rounds .Thank you guys at lucky Gunners for making this product available and especially at this price , unbelievable ! Good ammo for range training
Out of 1000 rounds shot,only two FTEs on CZ P10C SR. Pretty good for the price. Would prefer 124/147 grain, but for this price you get what you get ... Great Ammo
I have used Tula in several different calibers. I have never had an issue with any gun for any caliber. I have shot thousands of these rounds and have maybe had a handful of issues that could have been gun related. Would recommend to anyone. Surprisingly Good
I decided to test my two 9 mm autoloaders with this ammo. The two were a Beretta 92FS and PX4 Compact. Surprisingly the ammo was not any more dirty than most brass ammo I use. In addition I didn't see any malfunctions with either gun with this ammo through 100 rounds. It also had acceptable accuracy for range ammo. These are a great bargain for those looking for low cost… read more training ammo and their range allows steel ammo. I do not know how good they are with other guns but for Beretta's primary 9mm autoloaders, this ammo will work fine. Great for stocking up
Good ammo for stocking up and cheep enough to plink with all around great ammo. Great bang for the buck
Not all guns like this ammo but, my Ruger P-95 sure does!! Never jammed, grouping could be a little better but, what do you want, it's cheap to shoot these? Would use again for target practice. Good choice for the price
Bought this to try out to see if my guns would like them, worked better then expected, will be buying more, burned fairly clean, went bang every time, no FTF or FTE, this was used on a P95 and a RIA 1911 9mm Had a number of misfires with my model 39 during qualification.
As above No good wasted my $$$
Jammed my sd9ve. Very hard to extract in my 686, 638. Very unpleasant experience. The steel casing expands and makes for a very unhappy time. Much less having to depend on your firearm to save your life Great Ammo
Ammo shot great no problems with my SAR B6P 9mm. No jams could shoot this ammo all day. Very happy with the purchase of the amo.
Ammo was fine and I had so much fun on the shooting range and no problems at all. Excellent packing and shipped very fast. Thanks Chris and Angela here from Lucky Gunner.
9mm - 115 Grain FMJ - Tula - 50 Rounds Variations
9mm - 115 Grain FMJ - Tula - 50 Rounds Questions and Answers
9mm - 115 Grain FMJ - Tula - 50 Rounds Price History