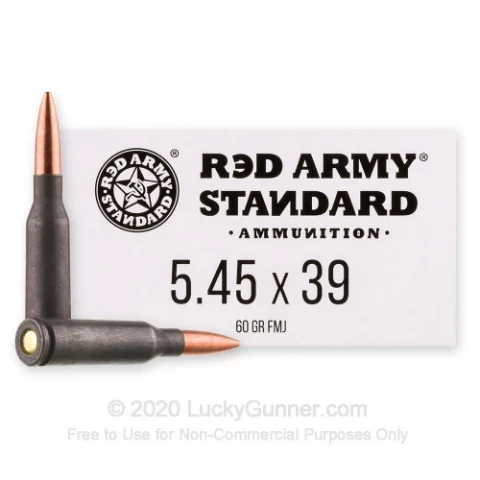 5.45x39 - 60 Grain FMJ - Red Army Standard - 1000 Rounds for Sale
Product Description
This ammo won't work in an AR-15! 5.45x39 is for the Russian AK-74 rifle.

Got a case of AK-74 fever? The only cure is a case of AK-74 ammo! Red Army Standard ammunition is imported from Russia and has all the cost-saving steel … read more features that Russian ammo fans love.

This 5.45x39 ammo is loaded with 60 grain FMJ bullets, the standard for range training. The main thing to consider about these bullets is their bimetal jackets. They are economical bullets because their steel jackets have only a thin wash of copper on their exteriors, but they're 100 percent going to attract a magnet.

Red Army Standard ammo is even friendlier to the wallet because it has steel cases. By forgoing brass you'll save money at the expense of being unable to reload your spent shell casings, but these rounds still feed and extract efficiently thanks to their cases' thin, heat-resistant layers of polymer coating.

Despite what the brand name suggests, Red Army Standard ammo is brand new and completely non-corrosive. No special cleaning required!
5.45x39 - 60 Grain FMJ - Red Army Standard - 1000 Rounds Comparisons
5.45x39 - 60 Grain FMJ - Red Army Standard - 1000 Rounds Variations
5.45x39 - 60 Grain FMJ - Red Army Standard - 1000 Rounds Questions and Answers
5.45x39 - 60 Grain FMJ - Red Army Standard - 1000 Rounds Price History