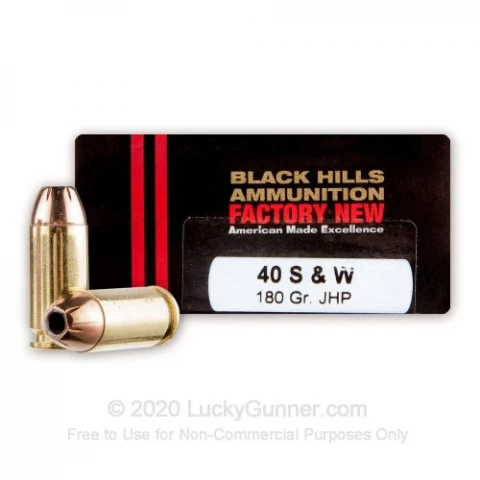 40 S&W - 180 Grain JHP - Black Hills - 20 Rounds for Sale
Product Description
The 40 S&W was developed for the FBI and is one of the best self defense and range rounds that you will find. Designed specifically to balance recoil, penetration, and expansion upon impact, the FBI used the 40 S&W for years and … read more it is one of the best self defense and law enforcement rounds one the market.
When you use Black Hills ammunition, you are getting some of the most accurate ammo on the market. Black Hills even provides match grade ammunition to branches of the United States Military for their long range shooting competitions. BHA is headquartered in Rapid City, South Dakota and all of their ammo is loaded in the USA.
These premium self defense rounds feature 180 grain jacketed hollow point projectiles that achieve a standard muzzle velocity of 1,000 feet per second. Each bullet is loaded into a new production brass casing that is boxer primed and re-loadable. These JHP rounds from Black Hills deliver the hard hitting knock down power and terminal expansion needed stop an assailant, pick up a couple boxes today.
40 S&W - 180 Grain JHP - Black Hills - 20 Rounds Comparisons
40 S&W - 180 Grain JHP - Black Hills - 20 Rounds Reviews Accuracy of Black Hills 180 gr JHP
I had a Bar Sto barrel installed in my XDm Compact recently. When I questioned Bar Sto in order to obtain 1 1/4" groups at 25 yards, I was told that to get these type of groups, proper fitting of the Match barrel, match grade ammo, mostly reloaded, tailor made for the barrel, sandbag rest and use 180 gr bullets, however, they also stated that Black Hills is the most consistent… read more ammo they have found. This is the 20 round red box. While this ammo did not average 1 1/4" groups at 25 yards, it did average 1 3/4" for 4 - 5 shot groups, 10 shot composite group average was 3 1/16" and the 20 shot composite groups was 3 1/4" at 25 yards, off sandbags. Smallest group was 1 5/16", largest group was 2 3/8".
40 S&W - 180 Grain JHP - Black Hills - 20 Rounds Variations
40 S&W - 180 Grain JHP - Black Hills - 20 Rounds Questions and Answers
40 S&W - 180 Grain JHP - Black Hills - 20 Rounds Price History