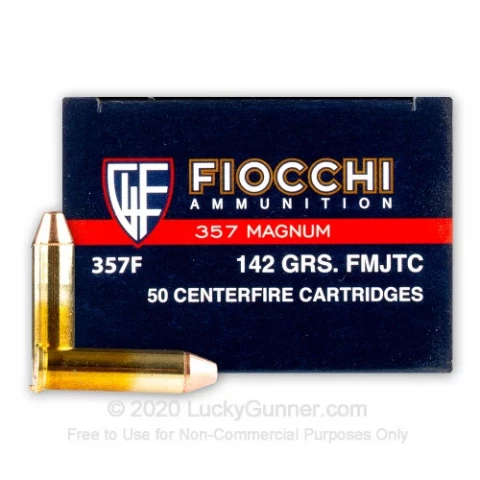 357 Mag - 142 Grain FMJTC - Fiocchi - 50 Rounds for Sale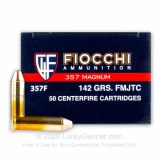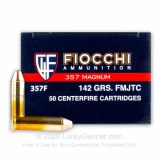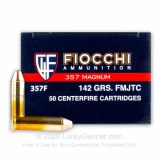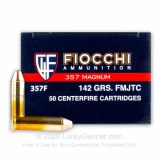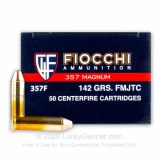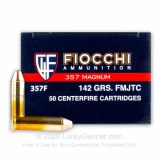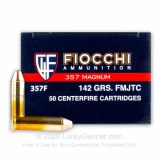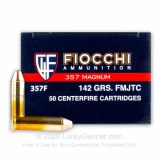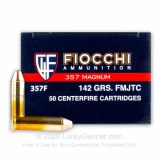 Product Description
Fiocchi is a well known European cartridge producer that has continued to build its reputation as a quality supplier to the U.S. market. Its product is excellent for use in training, target practice, or just fun-loving plinking.

This ammunition is … read more brass-cased, new production, non-corrosive, boxer-primed and reloadable. It is consistent, reliable, and affordable.
357 Mag - 142 Grain FMJTC - Fiocchi - 50 Rounds Comparisons
357 Mag - 142 Grain FMJTC - Fiocchi - 50 Rounds Reviews Fun At The Range
Excellent range ammo. Clean, accurate, reliable and fun to shoot. And Lucky Gunner shipped it fast and in great condition. Highly Accurate
Extremely accurate at 25 meters. Was averaging 3" groups on hostage style targets and plain old fashioned iron sights. The firearm used is a S&W Model 19-9 Combat Magnum, 4" barrel. On a side note, I will buy this ammo from Luckygunner. It's about $3 cheaper from LG. kickingbadger
May 5, 2020
Fine Ammo
I pick 2 boxes up at a local gun shop, i was so delighted with the performance of this ammo, i look for it every where i can find it. Shot it out of a Taurus model 66 with a 4 inch barrel. I was so happy i found this ammo on this site. I was going to pick up another .357 wheel gun, now i have some fine ammo to train with it. By the way, i did not shoot paper targets with this… read more ammo, i shot some really thick posts with it. It busted the posts to pieces. Very happy with this ammo. Harry Callahan
May 6, 2018
Great ammo
I have ordered and shot many boxes of Fiocchi .357 magnum ammo and have had zero problems with it. Good practice & range ammo
Bought 1,000 rounds of this ammo. Performs very well. Powder burns clean. Works very well in revolvers and rifles. Brass is reloadable. Good value if bought in bulk. Lucky Gunner's usual service and quality
As I've come to expect from Lucky Gunner, I'm very satisfied with the timely delivery and the quality of their products. The reviews are very helpful is selecting an ammo. Performance and accuracy were very good through my 686 Plus. I'd buy this ammo again. No complaints
Fast shipment, good price - no misfires Worked great in my wife's 357
No misfires. delivered on time, will buy here again and again. Clarence
December 28, 2015 great price, great ammo
Easy ordering, fast shipping, great price, very good ammo. Siloshooter
September 11, 2015
No worries!
Does what it's supposed to, no troubles at all through my 686 plus! buffalo
December 16, 2014
Quality Ammunition...
Not much to say... quality, Italian name but manufactured in USA. Will order more on my next big order
357 Mag - 142 Grain FMJTC - Fiocchi - 50 Rounds Variations
357 Mag - 142 Grain FMJTC - Fiocchi - 50 Rounds Questions and Answers
357 Mag - 142 Grain FMJTC - Fiocchi - 50 Rounds Price History