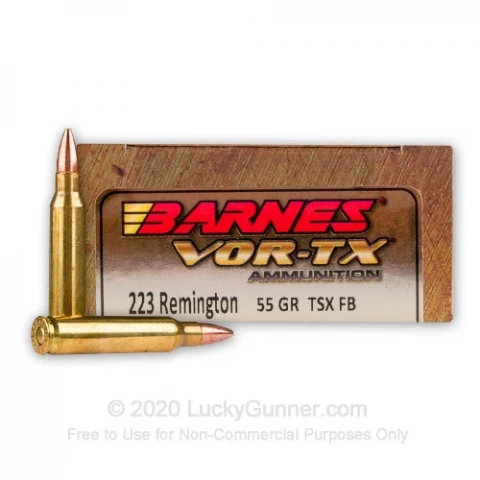 223 Rem - 55 gr Triple-Shock X Hollow Point - Barnes VOR-TX - 20 Rounds for Sale
Product Description
Barnes VOR-TX ammunition is considered one of the most effective hunting cartridge lines in the world. This premium Barnes rifle load features their Triple-Shock X (TSX) bullet designed for accuracy, weight retention, rapid expansion, and deep penetration. This winning combination … read more is sure to help you bring down your next prize trophy!

Barnes' TSX bullets feature an all-copper construction designed to achieve 28% deeper penetration than lead-core bullets with greater weight retention. The TSX bullet is designed to expand into four sharp-edged copper petals upon contact destroying tissue, bone, and vital organs for a quick, humane kill. The TSX bullet features a bullet shank with multiple, precisely engineered grooves that reduce pressures allowing for higher velocities.

Each round is brass-cased, boxer-primed, non-corrosive, and reloadable. Additionally, this ammunition is lead free!
223 Rem - 55 gr Triple-Shock X Hollow Point - Barnes VOR-TX - 20 Rounds Comparisons
223 Rem - 55 gr Triple-Shock X Hollow Point - Barnes VOR-TX - 20 Rounds Reviews Pastor_Zatx
March 14, 2018
Failure to Fire and flamethrower
First round did not fire and jammed the bolt. Once I was able to force the bolt back after disassembly, I found that the firing pin struck the primer leaving a visible impact point. Interestingly, holding the round in my hand it was apparent that it was larger than the other rounds in the box. The round also had different stampings on its base. As the remaining rounds were standard… read more 5.56 size I proceeded to shoot them. Performance of these rounds was fine with no problems. Out of my 7.5in barrel Springfield Saint AR Pistol, these rounds produced a four-foot flame that was visible in bright daylight. I've never seen a flash like this in full sun, it completely blocked my view with both eyes open looking through an EOTECH EXPS holographic sight. Bumpanonose
October 22, 2017
Best bullets I have ever used quality is # 1
I highly recommend this product never had any problems when the first shot counts this is the one to have in your gun. Satisfied
I am in NY State and getting various shells is challenging. I'm very glad Lucky Gunner made the effort to comply with the law. Service is quick and reliable.
223 Rem - 55 gr Triple-Shock X Hollow Point - Barnes VOR-TX - 20 Rounds Variations
223 Rem - 55 gr Triple-Shock X Hollow Point - Barnes VOR-TX - 20 Rounds Questions and Answers
223 Rem - 55 gr Triple-Shock X Hollow Point - Barnes VOR-TX - 20 Rounds Price History