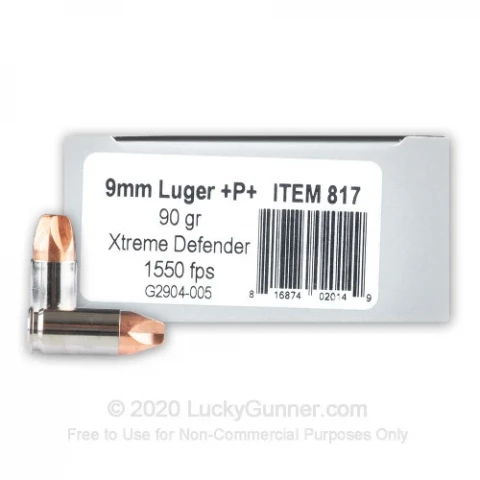 9mm - +P+ 90 Grain Xtreme Defender - Underwood - 20 Rounds for Sale
Product Description
This 9mm +P+ cartridge by Underwood features the Xtreme Defender projectile by Lehigh Defense. It's a rather unique self-defense projectile, as it does not expand as it penetrates its target. The 90 grain solid copper bullet is instead shaped like a drill … read more bit, and its radial flutes cause cavitation which may be up to double the diameter that a hollow point could have yielded. What's more, the Xtreme Defender's profile permits it to much more easily break through tenacious urban barriers, penetrate to a depth of up to 16 inches, and furthermore promotes more certain feeding in a semi-automatic firearm.

An Underwood cartridge is designed to truly deliver under any circumstances. That's why every one of their rounds is loaded with flash suppressed propellant, so that your ability to line up accurate follow-up shots won't be impacted should you have to stand your ground in the dark. This round also features a nickel plated brass casing for enhanced resistance to corrosion as well as smoother feeding and extraction. It has been plated via the Ducta-Bright 7a process, which fares better when exposed to the greater heat that a +P+ load can create.

Please do note that this is +P+ ammo and ought to have nothing to do with any weapon that isn't rated for it. Also, note that in an effort to increase production efficiency, the round may not have a "+P" headstamp traditionally found on pressure rounds.
9mm - +P+ 90 Grain Xtreme Defender - Underwood - 20 Rounds Comparisons
9mm - +P+ 90 Grain Xtreme Defender - Underwood - 20 Rounds Reviews Very affordable fast shipping very good company
Very fast processing orders shipping is easy would highly recommend and I have several times Great value and price
Excellent ammo; minimal recoil, excellent power and accuracy, and clean burning to boot. The price is also great in my opinion, given the current socio-economic climate. Thanks Lucky Gunner! Great Defense ammo
Great ammo for EDC. I also have this ammo in 45 acp. Both works great in all my firearms. This is as consistent as it gets
This is as consistent as it gets. And they'll stop a BG Decently priced but not very good ammo
Now the description on site was totally wrong but I just want to say it is not your fault also they performed great when they performed tried them out of a Glock 19 Gen 5 and a 2020 Ruger Security 9 so you know about the Glock in 2020 what that being said within the first five shots I had what hangfire and I thought what was like primer strikes but then I come to realize after switching… read more guys to a gun with a titanium firing pin with a hammer fire switch to my security 9 when they performed they were devastated I mean I wish they were the science I got 9 m m that have Underwood casings that are nickel plated nickel-plated primers one box is Jag nickel-plated cases not under wood and it has brass primers not and hopefully we'll get that not only that I happened to go look at my 38 Special that I have Xtreme Defender Spore and I'll look at their it has a Starline Chase nickel-plated with a nickel plated primer now I will say out of the 38 not one problem out of my 9 mm I got three boxes all ordered at different times and all three are different I have different casings different primers and clearly different bullet I don't care if they wait 90 grains are not one of the flutes are so thin when I compared it to the other extreme Defender I thought they might have accidentally sent me a Xtreme penetrator but after contacting y'all and finding out hope there are extreme penetrators so I had a contact Lehigh then I had to contact Underwood with no directions how to contact Underwood and when I contacted y'all y'all kind of said all we do is get them Stella need to contact them when I contacted them they told me I need to contact everybody just pointed the finger at somebody else it's not my fault I bought it from him it's not my fault I just loaded what they sent me like somebody has to answer for this somebody the only thing I got was send me all your bullets and we will get to the bottom of it that's it what does that mean cuz I got to over $100 like are you just going to shoot my bullets and go know they work fine for me hear what we have left are you going to reimburse my money I could never get an answer I love Lucky Gunner I always check them for my bullets are always I've never had a problem with him besides this one time and then I started to realize the difference like not only where they just like throwing these bullets together like with multiple different parts like nothing is the same she might have a jack case might have an Underwood case you might have a Starline case they tried to say all we do different cases would the date that means we only use those on plushies I said no I don't want to hear that because everything I got is + P everything's different I got different cases different primers and different bullets can anybody explain why I have three Underwood 90 grain Xtreme penetrator plus p and all three of them are different Very good ammo will definitely not recommend to friends and family until we figure out what's going on with the primers
I've ordered from Lucky Gunner before always loved it I'm sure this has nothing to do with Lucky Gunner but this ammunition does not come with starline brass what under what is notoriously known for having two Underwood ensures that let me say it exactly like the box says all primers are non corrosivewe produce our ammunition with the utmost care and pride to deliver a product you… read more can be confident in well my second shot out of my Ruger security 9 was a hang fire third shot hang fire change to see if it was the guns if the Glock 19 first shot hang fire what I seen was a lot of light primer strikes but it was not the guns it seemed to me to be very hard primers but also compared to my Underwood extreme defender plus p pluses I have starline brass and nickel plated primers they fired just fine all day long the only difference in the Underwood 9 mm plus p and plus p pluses are the brass casings which are from two different companies and the primers they gave me corrosive brass primers which I wouldn't care if they would fire but the ones that do fire I'm very surprised that they do when they do go bang they do a great job but these specific ones I bought was a total waste of money that was $80 down the drain because literally it's like 50/50 if the bullets going to go bang or not I've tried it in three different nine millimeters I've contacted Underwood customer service will not get back to me cuz I'm sure Lucky Gunner didn't make the bullets they're just selling them so there's nothing wrong with Lucky Gunner I will be ordering from them I just don't know what to do I bought these because I only had a couple 9 mm plus p pluses left they had plus P's in stock I figured hey better than nothing but no I would rather have a full metal jacket then these just because I know they're going to go bang I mean what kind of brass primer is this in these things they are hard as rocks It's a great bullet for self-defense it's just kind of hot on the high end of price
I would definitely recommend to friends and family just ordered two more boxes and just finished up my last box didn't have one hiccup they all ran out of my Ruger security 9 and my Glock 19 just fine Very good ammo will definitely recommend to friends and family
Underwood and Lehigh come together to make some very best bullets out there for self-defense and just personal protection period Great Ammo, I N C R E D I B L E Customer Service !
I have bought ammo from at least 10 different companies over the years, and on my first order with Lucky Gunner, I happened to order it on a Saturday evening, and they literally had the ammo on a FedEx Truck the next day (A SUNDAY) !!!!!! This is beyond Great customer service, unheard of, and I highly doubt you will EVER see this level of service from any other ammo seller out… read more there! They are truly the KINGS of Ammo customer service !!! WOW !!! HIGHLY RECOMMENDED ! Hot Ammo
Sharp recoil, and hurts a bit to shoot. Interestingly Underwood Xtreme Ammo leaves an easy to see inch wide cross shape on the paper I use. Cycles fine in my CZ-75. SIG 365
Went through a box of this today with my SIG 365. No misfires. I was concerned because of the unique "castle"-like profile of the bullet. Yes, you can feel a bit more recoil but not a big deal.
9mm - +P+ 90 Grain Xtreme Defender - Underwood - 20 Rounds Variations
9mm - +P+ 90 Grain Xtreme Defender - Underwood - 20 Rounds Questions and Answers
9mm - +P+ 90 Grain Xtreme Defender - Underwood - 20 Rounds Price History