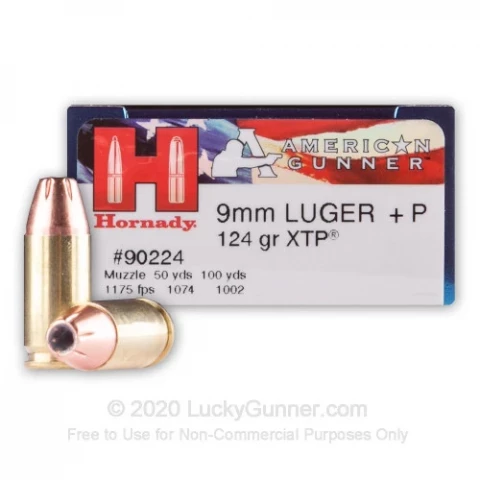 9mm Luger - 124gr American Gunner +P JHP - Hornady - 25 Rounds for Sale
Product Description
Hornady is out to prove that you don't need to spend $2 a round to get a solid carry load. Their American Gunner series of self-defense ammunition delivers strong performance at a price that allows for range shooting as well as self-defense.

This … read more 9mm Luger ammunition is a high pressure, or +P round that fires a medium weight 124 grain jacketed hollow point XTP bullet at an above-average muzzle velocity of 1,200 feet per second. Such a powerful load enhances the cartridge's ability to penetrate and expand for quick incapacitation of an assailant. However, it also generates increased recoil, particularly in subcompact pistols. +P ammo should only be used in firearms designed for it (check with the weapon's manufacturer if unsure).

Hornady is one of the most reputable manufacturers of premium bullets in the shooting industry. The XTP ranks among the company's most popular bullet designs due to its strong track record of dependable performance in self-defense and law enforcement use.

This ammo comes in boxes of 25 and uses non-corrosive Boxer primers and brass cases.
9mm Luger - 124gr American Gunner +P JHP - Hornady - 25 Rounds Comparisons
9mm Luger - 124gr American Gunner +P JHP - Hornady - 25 Rounds Reviews Sasquatch
September 2, 2020
Good for hand gun use.
I use with 100% reliability in my FNS9. With that said it will stove pipe in my AR9. This was the first ammo to do so. Over all this is the best price to performance for a 124gr +p hollow point. Best do it all ammo
In my opinion this is the best all around 9mm load ever. An original bullet weight of 124 grains, good velocities for performance but not too snappy for recoil sensitive shooters. Legendary XTP accuracy for target shooters, and controlled expansion for hunting or self defense. If I could only have one 9mm round, this would be it. Great Prices! Fast Shipping!
Great Prices! Fast Shipping! StormieNormie
November 22, 2015
Decent Ammo
This is pretty high quality ammo for the price. It is +P and shoots well in both my Glock 19 and Glock 26. I feel good about using it for self-defense ammo in my G26. Accurate and Powerful
This is one of the best 9mm rounds that I've tested. It's performance on water jugs was impressive and it penetrated through a trauma plate that a 45 and a 40 couldn't. I still love 45's and 40's but that proved the 9mm's effectiveness for me!
9mm Luger - 124gr American Gunner +P JHP - Hornady - 25 Rounds Variations
9mm Luger - 124gr American Gunner +P JHP - Hornady - 25 Rounds Questions and Answers
9mm Luger - 124gr American Gunner +P JHP - Hornady - 25 Rounds Price History