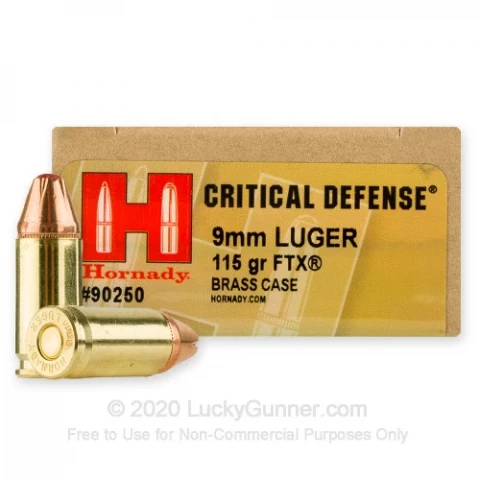 9mm - 115 Grain FTX - Hornady Critical Defense - 25 Rounds for Sale
Product Description
Reliable and controlled expansion, regardless of the target, every time.

Hornady Critical Defense ammunition is loaded with Hornady's patented Flex Tip bullet. Unlike most hollow point bullets, the Flex Tip bullet features a soft polymer insert that allows for consistent and reliable expansion. … read more Each bullet is custom designed for individual cartridges and loaded according to precise specifications to ensure reliable ballistic and terminal performance.

This ammunition is designed by Hornady to expand every single time. This ammunition is new production, non-corrosive, in Boxer primed, reloadable brass cases.
9mm - 115 Grain FTX - Hornady Critical Defense - 25 Rounds Comparisons
9mm - 115 Grain FTX - Hornady Critical Defense - 25 Rounds Variations
9mm - 115 Grain FTX - Hornady Critical Defense - 25 Rounds Questions and Answers
9mm - 115 Grain FTX - Hornady Critical Defense - 25 Rounds Price History