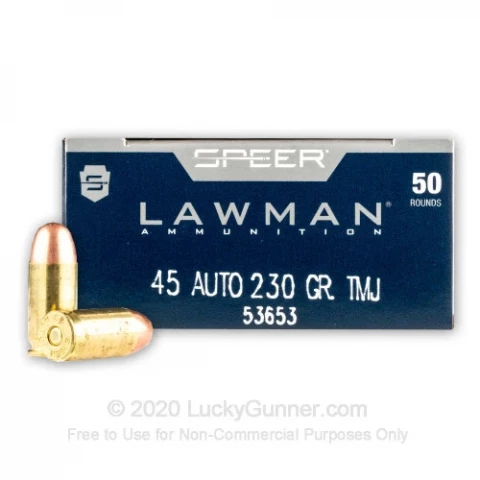 45 ACP - 230 Grain TMJ - Speer LAWMAN - 1000 Rounds for Sale
Product Description
Speer® brought sport shooters and law enforcement the excellence of Lawman over 35 years ago. Back in 1968, the line included various calibers of centerfire handgun ammunition, and quickly earned a reputation as a high-performance and reliable product.

Lawman is attractively priced, and … read more the cases are reloadable with clean-burning propellants and reliable CCI primers to complete the package.

Note that total metal jacket (TMJ) is essentially the same as full metal jacket (FMJ).

Muzzle Velocity: 830 fps
Muzzle Energy: 352 ft lbs
45 ACP - 230 Grain TMJ - Speer LAWMAN - 1000 Rounds Comparisons
45 ACP - 230 Grain TMJ - Speer LAWMAN - 1000 Rounds Reviews Had great experience with this ammo last 10 years.
This has always been excellent ammo in all my guns. Nice range ammo
Got this ammo to use in a Glock 30, 1911 and a P220. It wasn't the cheapest nor was it going to break the bank. It is consistent. So far used about half of the case and haven't had any issues. Perfectly fine for the range. I don't reload but like the product out of the box. hump1954
November 1, 2016
great ammo
After over 200 rounds fired zero F T F or F T E Good For Intended Purpose
I bought this to break in my Colt Commander. I've had several FTL and stovepipes but I really think that's due to my mags and wearing the pistol in. Fairly accurate for discount factory loads, but geez its dirty. After a cleaning and inspection prior to initial firing, I don't clean my 1911s until they've cycled 500 rounds. The next cleaning is after another 500. I do lubricate… read more after every 100. At the 300 round mark I had no FTL, FTF, or FTE. But I had a royal mess to clean. Slicked the top end up though. So for break in its great if you do it my way. Okay for practice and training, but if you're fastidious about clean pieces, recommend you try something else. Great ammo
Been shooting Lawman Brand for years at the range. Always clean and reliable. Back it up with Gold Dot in your carry weapon and you should always be good to go.
45 ACP - 230 Grain TMJ - Speer LAWMAN - 1000 Rounds Variations
45 ACP - 230 Grain TMJ - Speer LAWMAN - 1000 Rounds Questions and Answers
45 ACP - 230 Grain TMJ - Speer LAWMAN - 1000 Rounds Price History