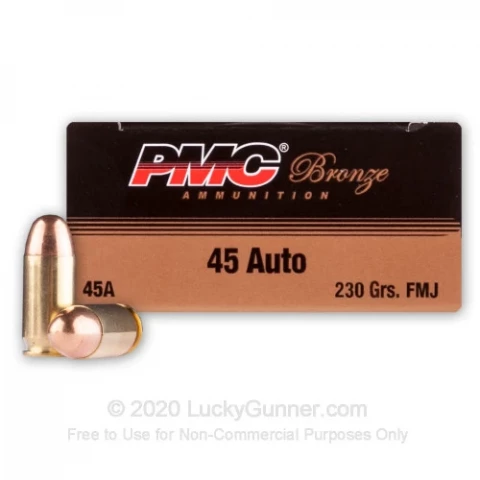 45 ACP - 230 Grain FMJ - PMC - 50 Rounds for Sale
Product Description
Newly manufactured by PMC, this ammunition is great for target practice and range training. It is both precision manufactured and economical serving as a great alternative to the steel cased products or the higher priced defensive products that are available.

This cartridge … read more is boxer primed, brass cased, and reloadable.
45 ACP - 230 Grain FMJ - PMC - 50 Rounds Comparisons
45 ACP - 230 Grain FMJ - PMC - 50 Rounds Reviews Quick shipper.
very glad these were available. Cycles cleanly and with No FTF or FTE. Runs like a champ. My Defender loves this round. So far so good
Haven't taken a trip to the range yet, as the weather has sucked hard lately. But I feel more secure knowing I have high quality ammo to send down range at unfriendly targets. That'll do for now … thanks ! Accurate and clean burning. made mincemeat of a heavy steel tray at 60 ft.
Very accurate at 60 ft.! Clean burning and brass were in great shape. Good round
I've shot PMC fmj multiple times and they ran through all my P227c just fine. Never a failure. I'd shoot this any day. I found it to be a touch dirtier than say Blazer Brass but it's no where near as dirty as Steel case. I'd recommend this to anyone Review writer
October 16, 2016
Consistent performer
Ran a couple boxes through a Charter Arms 45 ACP Bulldog revolver (yes it exists). Clean and consistent performance. Cases never swelled excessively, even in a hot cylinder. Didn't shoot at more than 15 yds. but it was accurate and offered no surprises up to that distance. Bandido
February 15, 2016
So far, so good..excellent service and delivery...no miss-fires after 1,000 rounds used so far
Same as summary...Glock 30SF Good
Shoot real nice in my sig 1911 the best
Excellent price and service from Lucky Gunner Johnyyrains
November 21, 2014
Flawless function. Not the cleanest burning powder.
Shot Great in my 1911 R1. Expect a little extra cleaning. Good ammo, however in my gun I didn't notice any advantage over the armscor which are cheaper. Glad to have found Lucky Gunner!! Keep up The great work!! great
Frist time customer. Now life long customer. Can't beat prices anywhere. the customer service was great. the PMC Bronze shot great. I have a Glock 21 (45 cal) no misfires or anything !!!! Great This company is around!! Will be back for more!!!! Good Stuff
PMC has always performed well for me. Like most, I think right now ammo prices are wacko, but that's the way it is. DWALKERVOCALMAN
September 1, 2014
AMMUNITION/CUSTOMER SERVICE
Lucky Gunner is THE BEST internet store I've ever used. Great products, and stellar customer service! My ammo performed beyond expectations in my S&W 1911. I look forward to being a customer for years to come... Keep up the great work!
45 ACP - 230 Grain FMJ - PMC - 50 Rounds Variations
45 ACP - 230 Grain FMJ - PMC - 50 Rounds Questions and Answers
45 ACP - 230 Grain FMJ - PMC - 50 Rounds Price History