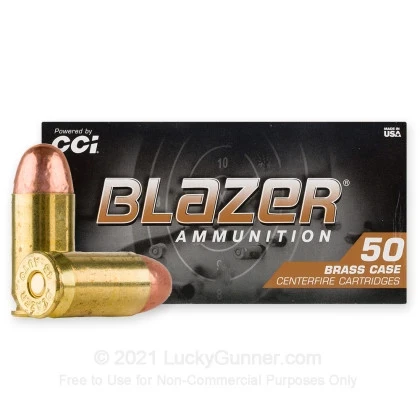 45 ACP - 230 gr FMJ - Blazer Brass - 1000 Rounds for Sale
Product Description
Newly manufactured in the United States, this product is brass-cased, boxer-primed, non-corrosive, and reloadable. It is a great ammunition for target practice, range shooting, and tactical training. It is economical, reliable, and brass-cased.

The Blazer Brass line of product is manufactured by CCI, … read more an established American manufacturer owned by ATK.

Attention reloaders, Blazer Brass 45 ACP 230 gr FMJ ammunition utilizes small pistol primers instead of the standard for 45 ACP, large pistol primers. These casings are still reloadable using small pistol primers.
Specifications
| | |
| --- | --- |
| Brand | Blazer Brass |
| Category | Handgun Ammo |
| Ammo Casing | Brass |
| Attracts Magnet | No |
| Bullet Type | Full Metal Jacket (FMJ) |
| Bullet Weight | 230 Grain |
| Caliber | 45 ACP |
| Muzzle Velocity (fps) | 830 |
| Primer Type | Boxer |
45 ACP - 230 gr FMJ - Blazer Brass - 1000 Rounds Comparisons
45 ACP - 230 gr FMJ - Blazer Brass - 1000 Rounds Variations
45 ACP - 230 gr FMJ - Blazer Brass - 1000 Rounds Questions and Answers
45 ACP - 230 gr FMJ - Blazer Brass - 1000 Rounds Price History