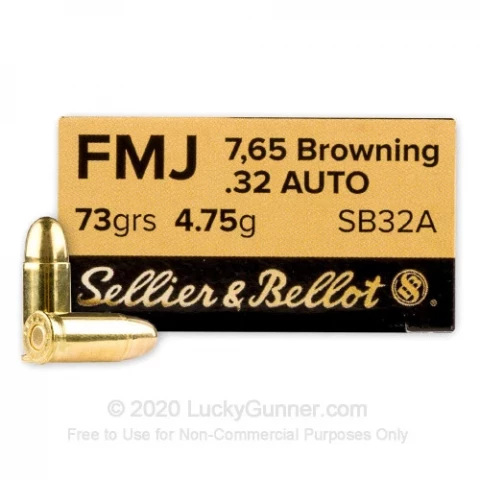 32 ACP - 73 Grain FMJ - Sellier & Bellot - 50 Rounds for Sale
Product Description
Sellier and Bellot has been producing cartridge ammunition since 1825. Today they produce ammunition using high quality components which is used by hunters, competition shooters, law enforcement agencies and militaries around the world.

This product is brass-cased, Boxer-primed, non-corrosive, and reloadable. It is … read more both economical and precision manufactured by an established European cartridge producer.
32 ACP - 73 Grain FMJ - Sellier & Bellot - 50 Rounds Comparisons
32 ACP - 73 Grain FMJ - Sellier & Bellot - 50 Rounds Reviews Winston Smith
November 23, 2019
Good Stuff
I have a number of .32 ACP pistols, and the S&B .32 ACP FMJ is a consistently performer in all of them. I have yet to see a malfunction in any of the guns I have shot this through. Only downside is that Lucky Gunner can't seem to keep this stuff in stock! Good Stuff
This is one of the only type of manufacture's ammunition that works in all my .32s. I continuously have issues with my Mauser HSC, but this 'Good Stuff' goes through it without issues. Ed Stringer
August 19, 2019
Keltec p32
My Keltec p32 runs like a top with this ammo, accurate no malfunctions . Tried making magazine rim lock , couldnt get to pistol malfunction , Same good funtion with a friend of mines Barretta tomcat Best .32 ACP
Shoots great, and seems to be a bit hotter than average even for European .32 ACP. BLADEAHOLIC
January 4, 2019
Great AMMO
S&B 32ACP is some of the best 32auto you can buy!. Works great in Both the PPK,Kel Tec P32 and its Hot loaded. Never had a FTF....Runs great. Best for the Kel Tec P-32
This ammunition is the most reliable in my Kel Tec P-32. The FMJ also offers much better penetration than the (often won't expand), JHP. Sellier & Bellot, (so I'm told), being foreign made, is a bit 'hotter' than american made .32 ACP. Works great in my NAA & Beretta too! The S&B Full metal jacket load is at or near European Standards.
It clocks over ,000 fps from my Walther PP and my Colt /US armament 1903 It is much more reliable in my guns than any of the short loaded "Performance: loads from several factories or th lead flat point loaded by one concern. I've found that I need to crimp (Lee die) all 32 ball loads to eliminate malfunctions from the semi rim of the ejecting cse hitting the next round up 'though… read more nobody else seems to find this necessary. In any case, handled that way this load is totally reliable. Loaded to European level
It is completely reliable in my Walther PP. It clocks 1061 fps which is actually a bit milder than Yugoslav 73 gran ball and the Buffalo Bore 75- grain lead flat point. Most SAAMI domestic ball ammo is in the mid to high 900 fps range. I prefer it to the 60-grain jhps that generate about the same velocity because the short overall length of those rounds produce rim lock in… read more my pistol FormerFlyer
October 26, 2016
Great value for .32 Ball ammo
Good quality standard ball ammunition for a great range trip for 2:32. Cycles flawlessly through my Kel Tec. MrL8Nite
October 15, 2016
Accurate and reliable in a Tomcat
I've tried several brands of 32 ACP for my Beretta Tomcat - I've settled on S&B for my range ammo. I've used it effectively in teaching others to shoot the little gun with almost no issues (a few other brands had a slight tendency to not cycle properly when teaching novices to shoot). I wish S&B made a JHP in 32 ACP...I use PMC JHP when I carry the little gun. Good, solid ammo .32 ACP
I try many brands of ammo in my Kel Tec P32, and have found that the Fiocchi and Sellier & Bellot are reliable, accurate, and very nicely priced compared to often scarce and higher-priced other brands. I haven't found a bad brand yet, but S&B and Fiocchi have been a favorite at usually a bit lower price. With the cost of many calibres coming down recently, but not down to pre-2010… read more prices, I need to save whatever and whenever I can, as many do. I appreciate Lucky Gunner having this .32 ACP ammo for a decent price. no problems
Nary a misfire!
32 ACP - 73 Grain FMJ - Sellier & Bellot - 50 Rounds Variations
32 ACP - 73 Grain FMJ - Sellier & Bellot - 50 Rounds Questions and Answers
Asked by
Unknown
1 year ago
What length barrel is this MV and ft lbs nrg out of?
Hi Mike! Thanks for looking to LuckyGunner.com for your information! I contacted the manufacturer and was told that the test barrel was 3" long. Let me know if you have any questions or need to get a few boxes on the way! Give me a shout at 800-317-95
32 ACP - 73 Grain FMJ - Sellier & Bellot - 50 Rounds Price History