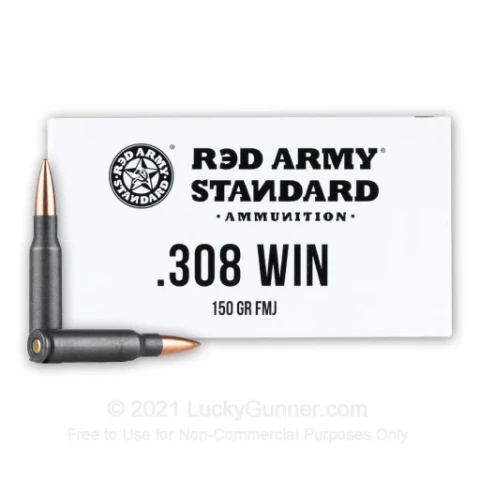 308 - 150 Grain FMJ - Red Army Standard - 20 Rounds for Sale
Product Description
Red Army Standard is a catchy name, but don't take it too seriously! This 308 Win ammo is new production, not something that Soviets squirreled away in some warehouse a few decades ago.

Each round wears a standard 150 grain full metal jacket … read more projectile, just what you want for high volume shooting at the range when match accuracy and terminal expansion don't matter all that much.

True to Russian form, a Red Army Standard bullet is cost-effective because it has a bimetal jacket. Steel is an effective substitute for costly copper, although its ability to draw a magnet makes it unwelcome at many ranges – particularly indoor ones.

Russian steel cases drive costs down even lower. They make cleanup a snap so long as you've got a magnet, although they make handloading more or less impossible and have a habit of firing a little dirtier as well.

These rounds' cases are polymer-coated to support smoother feeding and extraction in bolt-actions and AR-10s alike. Red Army Standard loads non-corrosive primers.
308 - 150 Grain FMJ - Red Army Standard - 20 Rounds Comparisons
308 - 150 Grain FMJ - Red Army Standard - 20 Rounds Reviews bolt jam
Purchased 2 boxes. Does not work with 110 savage. First round from each box had the same effect. Jammed the bolt and could not open smoothly. Had to pound on the lever to open and expel the case. I have used the tula steel ammo with no problems. Just perfect
Shoots great Works well even if not brass
Ammo works great on the range. Doesnt jam and priced well during the up turn in demand. Recommend for range practice. These are excellent .308
Fast shipping as always and these red army 150gr are great !
308 - 150 Grain FMJ - Red Army Standard - 20 Rounds Variations
308 - 150 Grain FMJ - Red Army Standard - 20 Rounds Questions and Answers
Asked by
Unknown
1 year ago
Does this ammo have the same specs as 7.62x51mm nato?
No sir, 308 is technically a different type of cartridge – although it has virtually identical dimensions to the 7.62x51 and is loaded to just a slightly higher pressure. SAAMI doesn't consider it unsafe to fire 7.62x51 in a rifle chambered for 308, and v
Asked by
Unknown
1 year ago
do you carry the British .303 round I think it's a 7.62X51 round it seem to be very difficult to find
Thanks for reaching out Wilber! 303 British is not the same as 7.62x51. We do carry it, though I regret that we haven't got any in stock at the moment. We update our inventory frequently, so I hope you'll check back in again soon to see how we can be of b
308 - 150 Grain FMJ - Red Army Standard - 20 Rounds Price History